Welcome to the B & B Izabella website.
If you came here you probably are looking for a special place for a weekend or even longer stay. If so, I hope that my offer will meet your expectations.
Agrotourism at Izabela is a small luxury property and its location about which you read here guarantees a pleasant atmosphere in a beautiful natural area with views of nature.
Our location is a guarantee of an oasis of peace, located only about 20 kilometers from historical Lublin and 30 kilometers from the international airport Świdnik near Lublin. The slightly accentuated landscape is characterized by a forested area and extensive fields. It's great to come or ride a bike.
A little further south, the area becomes more hilly. And if you do not know, you can imagine yourself in central France. At a cycling distance (about 4 km) there is our "own" sand mine for refreshing diving, sunbathing or grilling "in the wild". Our guide will tell you more.
APARTMENTS
in B & B Izabella we have 4 hospitable apartments located on the first floor (all with shower or bath and toilet). We have two double rooms, an apartment suitable for 2-4 people and a larger room suitable for 6-8 people.
MEALS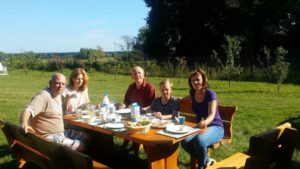 A rich breakfast buffet is served each morning with not only yoghurt, fresh fruit and muesli, but also sandwiches and various toppings. There is coffee, tea, fruit juice, milk and kefir. We use local products, food as much as possible and directly from the producer. Lunch and dinner are served on request.
More about our Offer.
OPERATION
In B & B care is in good hands of Iza. It is a nice, hospitable "gift" that will make you feel at home in terms of food, drinks and accommodation. Every satisfied guest gives her a sense of joy and meaning in life.